Best ASMR Microphone 2023
Hello, I see you are looking for an ASMR microphone.

You have come to the right place, because I have been using ASMR microphones for over 6 years and I will not let you make the same mistakes I made when I bought my first ones.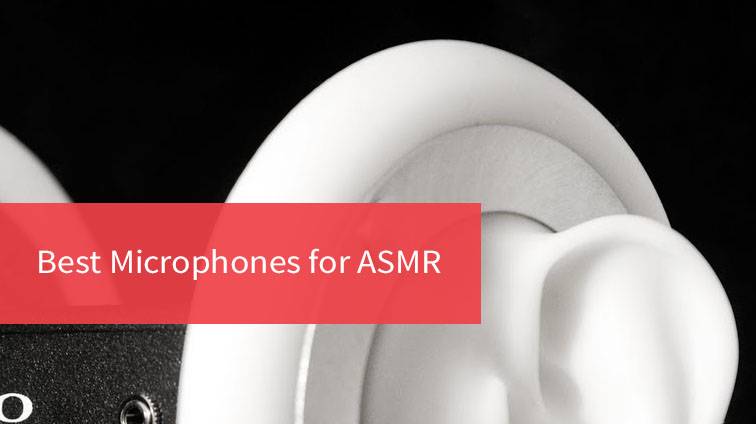 Contents
A proper ASMR mic is the best thing you can do for your ASMR channel. Over the years I have taken the time to test and research 43 microphones. Through trial and error I have found star products and the purpose of this article is to recommend the best ASMR microphone to fit your needs. Whether you are a beginner at ASMR or have established roots in the community, I will be recommending the right product for YOU.
A word of advice: The high end mics can be very expensive. So if you are just starting out, I'd recommend buying something on the cheap side just to see if you like making ASMR videos. Please don't invest in a $400 ASMR mic just to have it stand idle for 2 years.
But on the other hand, if you know you will be using it, I suggest investing in a quality ASMR mic so you are really pleased with the quality and don't have to upgrade again. Keep in mind that microphone technology is advancing very slowly. The best product today is very likely to be super good in five years also.
Now, let's find you the best microphone for ASMR.
List of ASMR microphones
If you are in a hurry, these are the microphones I recommend from each category. If you are not, in-depth reviews and information are found after the table.
Image
Microphone
Use Case
Buy
Blue Yeti
Most versitile and popular USB microphone
Best value for money ASMR microphone
Rode M5-MP
Paired microphone for binaural recording
Best binaural microphone for ASMR
PoP voice Professional Lavalier Lapel Microphone
Cheap, good microphone that connects to iPhone, Android and Computer
Best cheap ASMR microphone
Shure MV-88
High Quality condenser microphone made for iPhone & iPad
Best ASMR microphone for iPhone
Movo VXR10-PRO
High Quality shotgun microphone made for smartphones & DSLR cameras
Best ASMR microphone for Android
Best ASMR microphones
Here are our top picks. Whether you are looking for an ASMR microphone for iPhone or android or a USB one that connects to a computer, we've got you covered.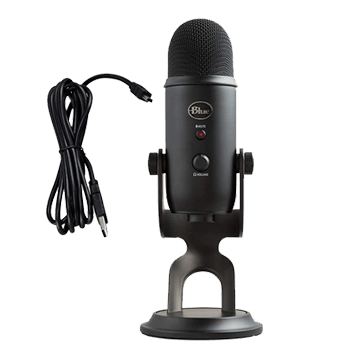 Blue Yeti
Best value for money ASMR microphone
Check price on amazon.com
The Blue Yeti is a classic among the ASMR community. The most notable feature is the sound quality for the price. All the patterns have a smooth, open sound that adds richness in sounds of human voices. Next upside is the construction of the mic and stand. When I first ordered this mic, I was expecting plastic, but nope, it's made of very solid metal that stands the tests of time and provides a solid feeling. It also doesn't seem to pick up as much vibration from the table as other mics do. All in all: relatively cheap, great sound quality with minimal background noise. Overall best microphone for asmr.
The Blue Yeti is also very easy to use. You just plug it into a computer and start recording. You can plug your headphones straight into the microphone to hear exactly what you are recording.
This is a great purchase for your first good quality microphone. The sound quality of this microphone is better than most of the more expensive ones. Many ASMR channels that make more than $10k/month still opt to use the Blue Yeti microphone.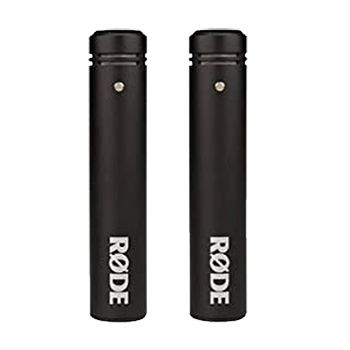 Rode M5-MP
Best binaural ASMR microphone
Check price on amazon.com
The Rode M5-MP is designed for music, but it works really well with ASMR.
They are sold as a matched microphone pair, which means you can record stereo sound (2 channels at once). While this isn't classified as a binaural microphone, they can be used as part of a binaural rig if you match them with a dummy head or some other similar apparatus in which to mount them that would mimic the spacing and shape of human ears.
The Rode M5-MP is highly sensitive, which means it's great for ASMR but it also picks up wind and plosive noise. But background noise is almost nonexistent.
To record with these mics, you would need a phantom power source and a recording device. Many of the better recording devices also provide power, so the easiest way to use these would be to purchase for example the Zoom H4n recording device.
Connection type: XLR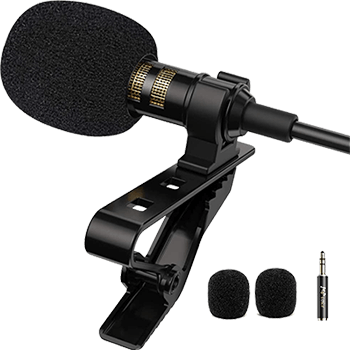 PoP Voice Professional
Best cheap ASMR microphone
Check price on amazon.com
This small lavalier microphone is by far the best choice in microphones costing under $20. If you are looking for the cheapest way to get decent quality sound, this is the way to go. You can connect it to your phone and just record. Nothing more needed.
The quality of this mic is surprisingly good for it's price. Compared to more expensive microphones, the blue yeti for example is far far better. But compared for example to the inbuilt microphone of an iPhone, the PoP Voice microphone produces about 3x better sound quality.
Buy this if you want to get into ASMR cheap.
Connection type: 3.5mm jack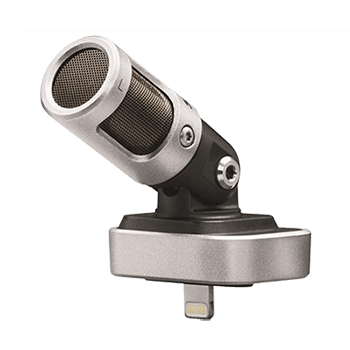 Shure MV-88
Best ASMR microphone for iPhone
Check price on amazon.com
This microphone plugs into your iPhone or iPad via the lightning port. It's compact size and you can aim the microphone in the direction of recording. The dedicated app includes the ability to control gain, change polar patterns and other useful features.
It's by far the best microphone I have used for a phone. The sound is clear and background noise is minimal. It also fits the phone with a case on. Only negative about this product is that you can't charge your phone while using the microphone. If you have an iPhone and want to record ASMR videos with it, this is an unbelievable product.
Connection type: Lightning Port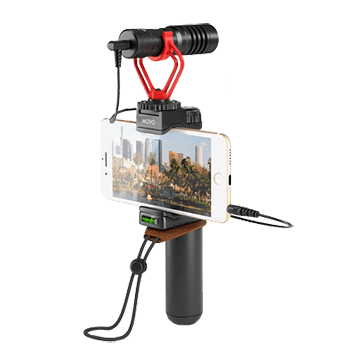 Movo VXR-10 Pro
Best ASMR microphone for Android
Check price on amazon.com
This small microphone is absolutely the best one in its price class. The Movo VXR-10 pro is small, light, aimable ASMR mic. It can be plugged into a DSLR camera, any smartphone or computer. The microphone is directed at the source of a sound and it captures clear and crisp sound with minimal background nouse.
Connection type: 3.5mm jack
ASMR equipment
When you are recording videos, all sorts of special equipment come in very handy. I have listed here the products that have been the most useful for me.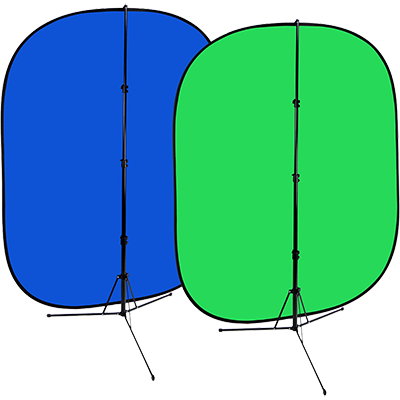 Collapsible Green Screen
With green screens you can change the background of your video to whatever you want. I have tried many green screens in the past and it's always a hassle to assemble and disassemble them. If you want to make videos frequently, it's important that you don't have to spend an hour to setup your studio. This green screen assembles in 5 seconds and stores into a very small space.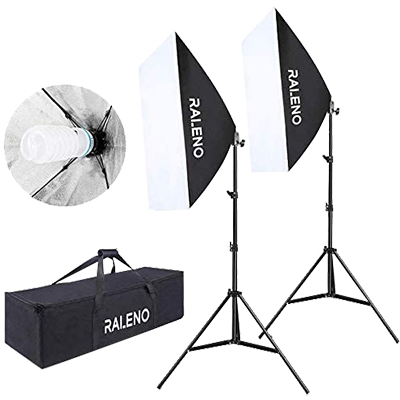 RALENO Softbox Photography Lighting Kit
Good lightning for your videos is the same as a good microphone for your audio. Instant professional effect. However, you don't need any fancy equipment for lightning. This one is affordable and very useful.
The purpose of the softbox is to break up the light so it doesn't produce harsh shadows. The stands provided help you to play with the position of the lights, moving them farther away or nearer, to create so many different lightning scenarios to fit your videos atmosphere.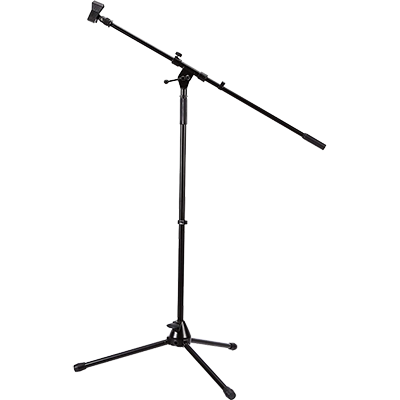 AmazonBasics Tripod Boom Microphone Stand
Microphones have universal connectors. It means they plug into every stand. The more expensive the stand, the more sturdier and larger it is. This one has served me very well for over 2 years. If you wish to mount your microphone to your desk, then it'd recommend this one: InnoGear Upgraded Microphone Suspension Stand.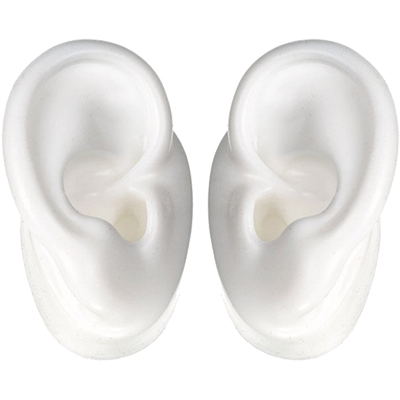 ASMR Microphone ears
If you want to get creative, many ASMR artist use these silicone ears as a binaural recording rig. You can cut holes into the ears and insert microphones into them. This way you get a perfect ASMR ear microphone. You can use a black cardboard box or something similar to create space between the ears and hide your microphone setup.
ASMR Microphone App
If you want to record ASMR videos with your iPhone or Android, the best software to use is Pro Microphone.
Questions about ASMR microphones
Some frequently asked questions about asmr microphones.
How to setup ASMR Microphone
Keep in mind, in order to choose the perfect ASMR microphone for you, you need to consider your whole setup. Everything is possible with the right adapters, but some setups might be a lot easier for you.
You can record sound and video with different devices and merge them with a video editing software. Just clap a couple of times at the start so it's easier to sync the video and sound.
Microphone + Phone
This is the easiest setup you can find. Just connect the microphone to your phone. If you buy microphones specifically made for phones, there's no need for adapters or any other equipment.
Microphone + Computer + Webcam
USB microphones connect to a computer directly. If you have an XLR-microphone, you need a sound adapter in between the microphone and the computer. For example the PreSonus USB AudioBox is a great choice. You can plug 2 XLR-microphones into it.
Microphone + Camera
Most cameras have only a 3.5mm jack for a microphone. If you have an XLR microphone you need an audio interface between the microphone and the camera. For example the Saramonic SmartRig+ 2-Channel XLR works great. Keep in mind that you can't just purchase a XLR to 3.5mm adapter cable since the XLR microphone will probably require phantom power and that's where the audio interface comes in.
Audio + video separately
You can always record your audio and video with separate devices and sync them later in an editing software. In this case you would probably need a recording device like the Zoom H4n. It works as a microphone on it's own but you can also plug an XLR microphone into it a the H4n will capture the sound.
For video recording you can use your phone, ipad, computer, a camera or whatever captures video.
What is binaural recording?
It means to record sounds in a way that mimics how we humans hear.
Our ears extend outwards from our head. They are designed to pick up sound and channel it into our ear canal. Thus, we hear very differently with our ears than a microphone on a desk records. Usually binaural recording is achieved by inserting two microphones into a dummy head where our ears would be. This way the microphone would hear in a similar way as a human ear.
The purpose of binaural recording is to create a experience that immerses the viewer into the situation. Like you are part of video, standing there, listening.
Binaural recording always needs 2 separate microphones. For example the Blue Yeti has 3 different microphones inside, but you can't differentiate the recording channels, so both left and right sounds are exactly the same. So binaural recording is not possible.
With for example the Rode M5-MP, binaural recording is possible. You have two different microphones that can be placed separately and one of the microphones records left sound and the other right sound. You can easily whisper ear-to-ear with this simple setup. But if you want to truly mimic human hearing, you would have to insert the microphones inside dummy ears so the sound the microphone picks up resembles human hearing.
What is microphone self noise and why is it important?
Self-noise is a very important quality when choosing an ASMR mic. We are recording low level sounds with lots of pauses, so all the hissing and buzzing or the microphone will be noticeable. Beating the self noise is one of the most challenging things for ASMR artists and you can only overcome it with good equipment.
In the technical specifications of a microphone there is either "Self Noise" or "Signal-to-Noise ratio" (or S/N). The lower the self-noise the better – under 15dBA is excellent. The higher the self-to-noise ratio the better – 60bB is okay and over 80dB is excellent.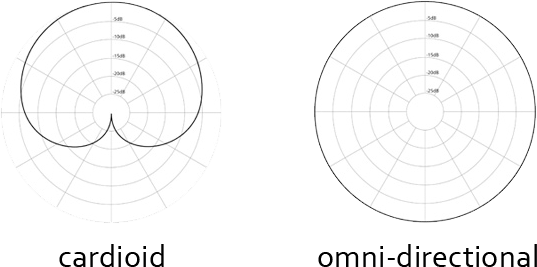 Microphone polar patterns
Microphone polar patterns mean how the microphone is recording sound.
There are many different patterns but in ASMR mics, the most popular one is omni-directional and cardioid.
Omni-directional patterns means that the microphone records sounds evenly in all directions. With omni-directional sound, you can immerse the listener of your video more in the scene. The downside is that you can't direct your microphone away from sounds you don't want to record.
Cardioid pattern records sounds in the front of the microphone which means by aiming your microphone, you can easily choose what sounds to capture.